Company Profile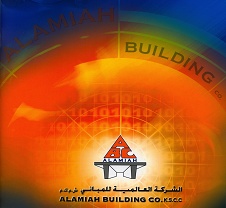 Alamiah Building Company is the name behind many of Kuwait's most advanced and prestigious facilities. Since 1989, we have been providing our clients with reliable solutions to their most complex construction challenges.
Today, we are recognized as leaders in the industry, for our strength in traditional construction methods and for our creative, fresh approach to cutting edge technologies and delivery systems. Our success is driven not only by our ability to build some of the most advanced facilities for our corporate, institutional and governmental clients - more and more of our clients are turning to us for our distinctive ability to implement innovative project management techniques, as well as our ability to serve as a reliable provider of knowledge-driven solutions for their complex construction projects.
Alamiah Building Company is a privately held corporation with head offices and factories located in Amghara, covering an area of 60,000 sq.m. We have been granted a license as general contractors for the construction of buildings, roads, and the installation of mechanical & drainage systems. Alamiah Building Company is classified as a First Grade Construction & Infrastructure Company in the Central Tendering Committee of Kuwait, and is also licensed to buy, own and manage factory facilities. We have our own factories of Pre-Cast/Pre-Stressed Concrete Plant, Hollow Core Slabs Plant, GRC Plant & Gypsum Factory. The Company has built up considerable expertise in undertaking turnkey jobs as well as precast and GRC jobs and has successfully completed many projects in Kuwait to the best satisfaction of its esteemed clients.
The Company has sound technical, financial & administrative capabilities for expedition of large constructional projects in Engineering, Procurement, Construction, Operation & Maintenance of Major Buildings, Roads & Infrastructure field. We have built an excellent market reputation by possessing ample financial means and successfully executing several multi-million Kuwaiti Dinar projects in our domain of specialization in civil engineering and construction field.  Alamiah Building Company K.S.C.C. is capable of executing projects of wide ranging nature, namely Military Headquarter Complexes, Commercial Complexes, Residential Complexes, Supermarkets, Hospitals, Car Parks, Industrial Buildings, Housing projects, Schools & many other government projects.
Overview
Founded in 1989, Alamiah Building Company is a Kuwaiti-based general contractor and construction management company. We are specialized in providing our clients with the most economical construction solutions for all kind of projects by using our own wide range of prefabricated building elements along with our best solutions of traditional construction. Our expertise spans a wide range – from pre-construction services to complete turn-key construction projects. Integrity, quality and innovation are the characteristics that distinguish Alamiah Building Company as a leading construction company in Kuwait.
Culture
Our culture begins with our people; we like to think of ourselves as one big family working together toward one goal - Building Excellence. Our company culture is a mix of hard work, fun, mutual respect and a strong commitment to our clients and community. There is close friendship among the employees of this family-oriented company that adds value to their working and personal lives. We strive to maintain an open, family-like atmosphere in our offices and on our job sites. Like most families, our expectations are high, we recruit and retain only the most talented and enthusiastic employees, many of them have been with Alamiah Building Company for over 15 years.
We encourage teamwork and collaboration. We support and reward individual initiative and resourcefulness. We value problem solvers and effective communicators and acknowledge and celebrate the contributions and accomplishments of others - fellow employees as well as our project partners.
To download the brochure
Click Here